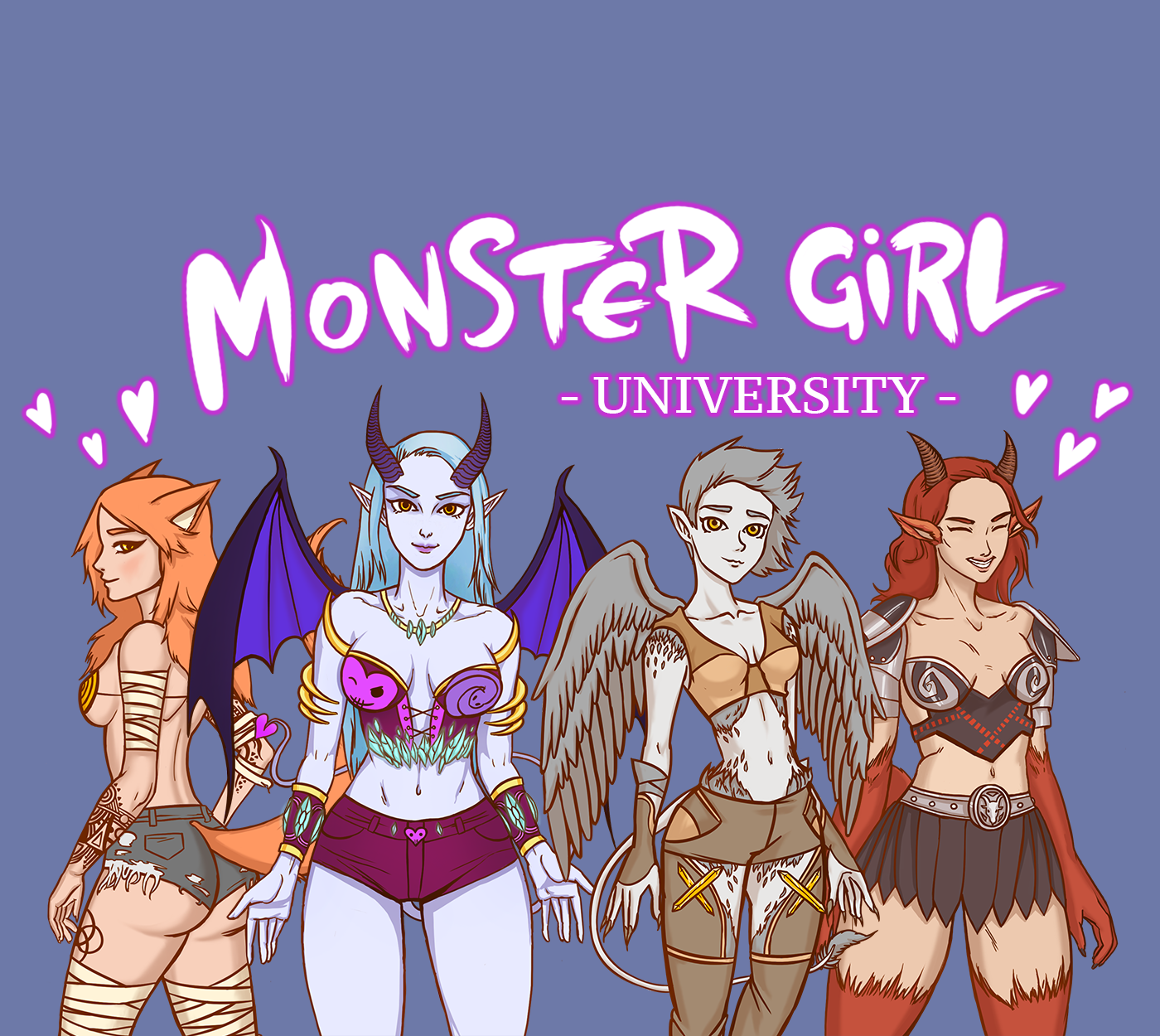 Monster Girl University
A downloadable game for Windows and macOS
School-based fighting Yuri RPG game with monster girls!
-----
NOTE: This is a really early stage demo!! I will add in custom battle art for every monster eventually.
Monster Girl University is a monster girl dating sim, and you play as Alex, a human girl who finds herself in an indecisive place in her life, unsure of what her next steps are or where to go. She decides to apply to Monster Girl University, attending a school filled with monster girls, being the only human girl on campus.
Many options are to be seen in this game, as it is going to have open-world elements, a mix between visual novel style and turn-based roleplaying game where you can explore the world, collect items, fight monster girls, and... maybe even date monster girls.
---
Made in RPG Maker MV.
Scripts
YanFly (https://www.yanfly.moe)
GALV's Scripts (https://www.galvs-scripts.com)
Atelier RGSS (https://atelierrgss.wordpress.com/rpg-maker-mv/)
HimeWorks (http://himeworks.com/)
Music
Main Menu (Lost Beneath The Stars), Some Danger, Charming Meadows: Tyberalex (https://soundcloud.com/tyberalyx)
| | |
| --- | --- |
| Published | 89 days ago |
| Status | In development |
| Platforms | Windows, macOS |
| Rating | |
| Author | nyakochan |
| Genre | Role Playing, Interactive Fiction, Visual Novel |
| Tags | Anime, Dating Sim, erotic, Fantasy, Monsters, Relaxing, Romance, yuri |
| Average session | A few hours |
| Languages | English |
| Inputs | Keyboard, Mouse, Gamepad (any) |
Download
Click download now to get access to the following files:
MGU-win_1-17-2018.zip
468 MB
MGU-mac_1-17-2018.zip
469 MB
Comments
Log in with your itch.io account to leave a comment.
Yes! Where at? In the store or individual items, such as the shovel, pickaxe? Or some other items that are outside on the shelves?
Individual items would be super helpful. For example, I have no idea how much I have to save up to get the amulet of wealth.
Ohhh. Okay! Thank you so much for your input!
For some reason, whenever I hit escape in the game, it pops up with this error down below. I can get around it by clicking the retry button and I'm able to progress, but it is frustrating to say the least having it happen every time I need to access the menu. I've tried running as admin, re-downloading, re-extracting, but to no avail. Any help would be greatly appreciated as the game looks like a beautiful work of art :3.
Oh!! Thank you for addressing this issue, I forgot about this. Fixing it now.
(release: 11/05/2017)
I like the idea. The art and music are excellent, and the writing was fairly good.
I couldn't find anything else to do in the currently downloadable build after recruiting Luciana except for fighting random monsters; did I miss something or is that it for now? I see busts of two other girls on the main menu but wasn't able to find or recruit what I think are a kitsune and harpy.
...And, just because this was really bugging me when I first started: Why was Alexis carrying a sword around while writing college applications? Or did it appear in her hand when she teleported? :P
Alexis is missing a menu portrait. So is Luciana.
Sylvia is listed as a Spellcaster, but doesn't know any spells. Is she newly enrolled or something? :P
Luciana's conversation with Alexis if Alexis went to get a student ID before entering the cafe and talking to her is slightly nonsensical -- she acts like they've talked before.

You can sell the student ID card (for 25). It's probably a key item that shouldn't be sellable?
Losing to Sylvia is a game over; why? I mean, you'd never be able to do it by accident... but it's not like she's going to kill you when she's play-fighting... If going to 0 HP means dying, shouldn't the fight end when Alexis drops below 100 HP or something?
I don't seem to take any damage from zombie girls, no matter if they attacked or Dual Attacked. Is their Attack really weak?
The Student ID Card can be used as a combat item. (It doesn't do anything.)
[Edit: Found via yuri game jam 2017, by the way.]
Hey Crowthorne,
Thank you so much for playing through this demo and for this review! I've added menu portraits, fixed a few tile related problems (which caused being able to run up walls in some locations), and am still working on storyline material! Sorry for the slow updates lately-- running into a few real life related issues these past couple months, but I should be ready to start seriously working on this in January!
Sounds cool! Can totally understand not wanting (or being able) to work on updates over Christmas. I look forward to giving it another playthrough when the storyline post-teleport is a bit more developed.
Hello,
Although this looks like a charming game, it had to be removed from the Greek MytholoJam submission feed. Only work inspired by Greek antiquity and created between 11/15 and 12/6 is acceptable for this jam.
Thank you for your interest in the jam, and best of luck in the future!

Hello nyakochan,
I had to remove your submission to the Maximum Monster Month! game jam because it does not comply with our rules (even though it looks absolutely lovely! ♥).
Reason: your entry was published before the jam started.
I do wish you the best of luck in the future!
Regards,
Patchwork Princess
Hey!
Oh, I didn't realize... well, good to know! Is it possible to resubmit? I started building my game around mid/late October. Is it still disqualified?
Bug Report: On the principals office (the monster academy) im getting stuck, and i cant go out.